The 10 elements to consider for making your IoT solution implementation scalable, reliable, and cost-effective.
While the Internet of Things is being increasingly adopted in the business world, the practices that ensure a successful IoT implementation are still maturing. According to Beecham Research, a substantial 74% of companies expect their IoT projects to be unsuccessful, with a mere 12% classifying their projects as totally successful. This report, made with the support of our partner Software AG and other IoT companies in the field, uncovers common challenges that affect different layers of the companies. These include poorly defined objectives, lack of clarity in work teams scope definition, and challenges selecting strategic partners and technology.

Despite the clear benefits of implementing IoT solutions, it appears that the path to hit the IoT jackpot is not straightforward. In this article, you can find the expert insights crystallised into ten key factors to keep in mind and get the desire outcomes in your IoT implementation journey
1. Keep it simple
This advice applies to various stages of implementing an IoT solution. Maintain simplicity in design and functionality to improve user acceptance and adoption. Additionally, reduce complexity in components to a minimum to make repairs and maintenance easier.
2. Demonstrate and prove the business value
Develop clear objectives and use cases to effectively demonstrate the tangible business value of the solution. A successful IoT solution should be in sync with your business goals and strategic priorities. The use cases should effectively demonstrate how the IoT solution positively impacts internal and external work processes, addresses challenges, and opens opportunities to generate competitive advantages in the market.
3. Start with scalability in mind from day 1
Establishing scalability as a foundational principle facilitates organic expansion, not only to respond to the market's evolving demands but also to decide which partners, infrastructure, and connectivity layers are adequate for your solution.
4. Data security and hosting location
Make sure to use best-in-class software with proven security credentials, as well as suppliers who can provide good security documentation and certification. Additionally, ensure that all legal documentation is adjusted to the legal system of the country in question.
5. Incorporate best-in-class components
When it comes to IoT, it's important to prioritize excellence over novelty to ensure optimal performance. Given the ever-evolving nature of IoT, it's crucial to use top-tier components and partner with reliable companies with a proven track record and strong support.
6. Remote management of physical assets
Cultivate proficiency in remotely monitoring, managing and optimising your solution's hardware and software. To achieve this, invest in alerts and components that enable easy remote access to IoT infrastructure, allowing for prompt decision-making or configuration based on up-to-date insights. This factor is necessary to achieve scalability with a simplified approach.
7. Ease of deployment in end-user environments
Prioritize a simplified client onboarding process. This way, the solution streamlines the assimilation process, minimises costs, and reduces installation friction. This factor should also be applied to internal use-cases to secure smoother integration into workflows and enhanced productivity.
8. Adding layers of value
Diversify the value of your solution by adding enhancements that increase its utility and responsiveness to the evolving needs of clients, whether they are external customers or internal departments within the organisation. Go beyond the technical aspects of your solution to open up more market opportunities by making your proposal more comprehensive, innovative, and therefore, more attractive to potential clients.
9. Enhanced end-user experience
When designing an IoT solution, it should be easy to use, intuitive, and accessible to users of all knowledge levels. Furthermore, it is important to consider the feedback of end-users in order to continually improve your proposal and remain relevant in meeting their expectations.
10. Collaborative work
Developing a successful IoT solution requires specialised skills, knowledge, and experience that should come from both internal and external suppliers. Cultivating a strong collaborative philosophy around your solution allows for early access to new market opportunities, risk mitigation with limited resources, and the ability to pivot quickly to changing project requirements or market demands.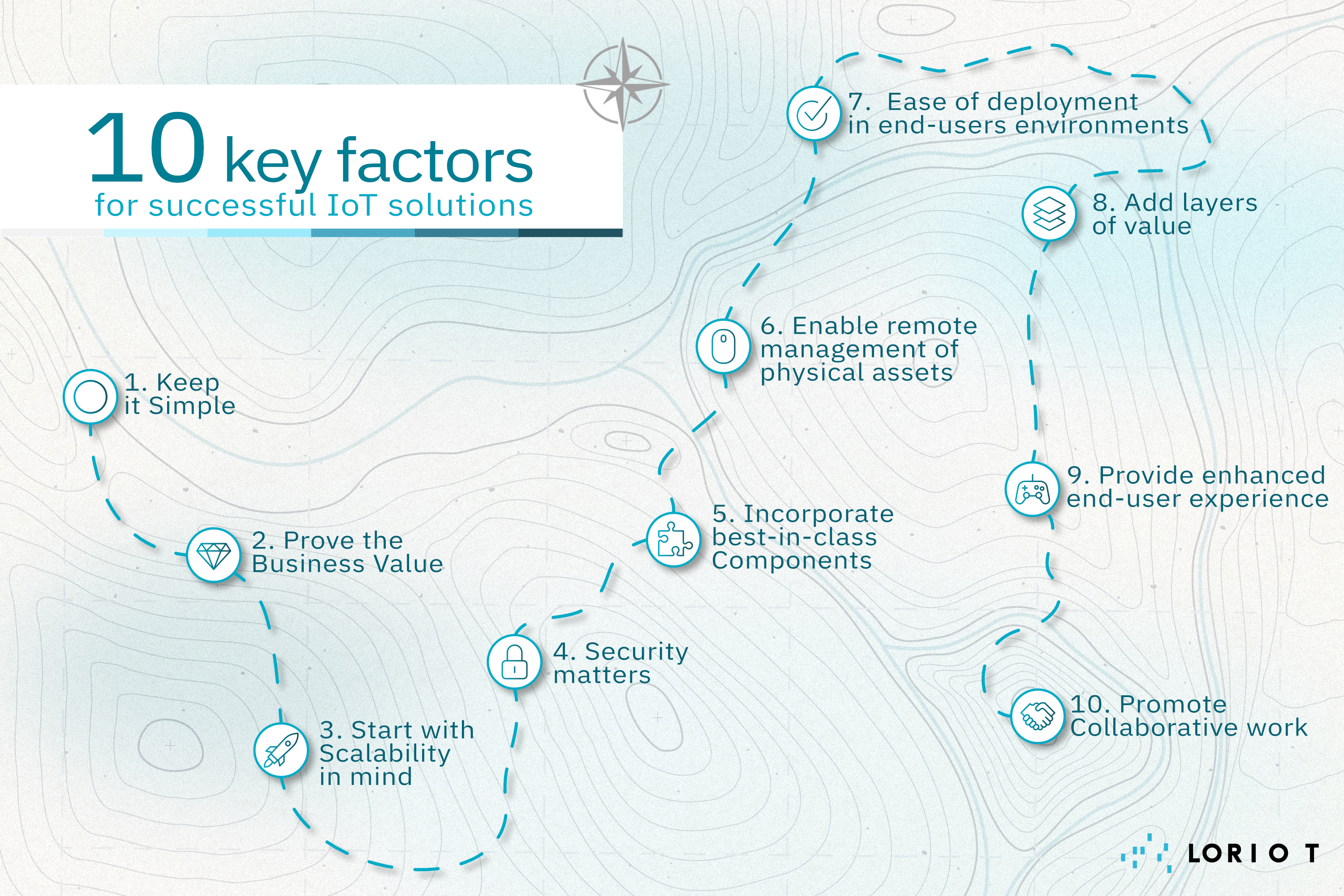 As you can see, while there may be diverse challenges involved in implementing a seamless and impactful solution, there are also key principles that tackle them.
One of the first and main lessons that I have learned in the realm of IoT is that no single technology is universally effective for every use case.
This principle also applies to the mission of implementing an IoT solution: every project must strike its own balance of strategies and best practices based on their available resources, knowledge and market.
As IoT continues to shape industries and lifestyles, recognizing and embracing these factors will undoubtedly lead organizations to success in their IoT efforts.